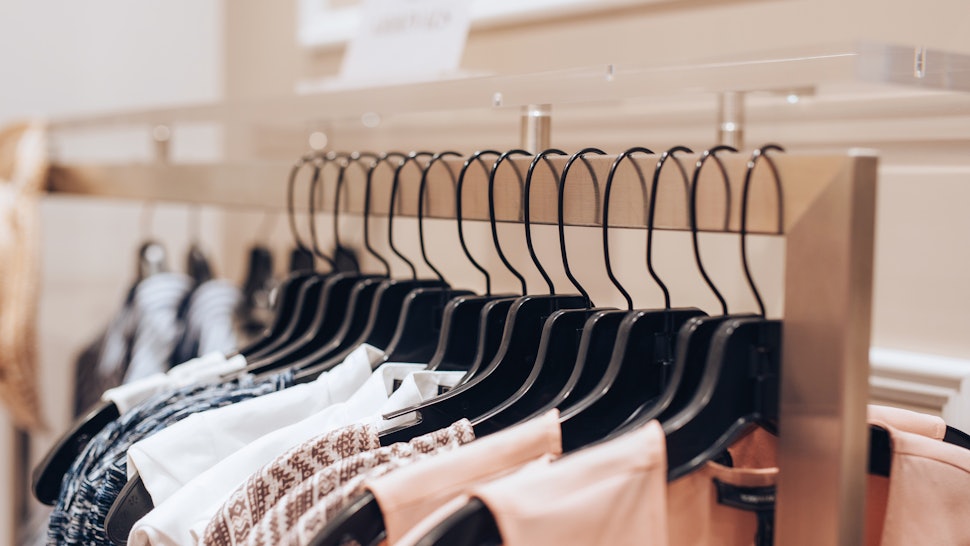 The
coronavirus
pandemic continues to significantly affect the lives of people across the globe. Major events are cancelled or postponed, travel is restricted, employees are work remotely, and face masks have become a part of our daily wardrobe. And while many grapple with disruptions to their everyday routine, some coronavirus patients suffer far worst fates as hospital beds fill up and the death toll rises.
A lot remains unknown about the virus, specifically when it comes to one of the mainstays of daily life: your clothing. Can coronavirus live on clothes? How about shoes? Is it safe to rent clothing or shop online? Here's what experts are saying:
Can coronavirus live on clothes? If so, for how long?
Information on whether coronavirus can live on any surface is still unclear, but there are a few reassuring things to remember.
Harvard Health
says the disease is more likely to survive on a hard surface than a soft surface like fabric. Smoother surfaces, like
patent leather
, may be safer to wear. The length of time that coronavirus can live is also still under speculation. The
World Health Organization
estimates the lifetime of the disease is between a few hours and a few days.
Saralyn Mark,
American Medical Women
'
s Association
leader and Senior Medical Advisor to HHS, tells Bustle it's best to practice good clothing hygiene. "If one is living with a person who is vulnerable — age, pre-existing conditions — it may be worthwhile to change clothing once inside your home and wash items." She recommends
washing clothing
in detergent in hot water, and washing surfaces with alcohol-based products.
Can coronavirus live on shoes?
Dr. Joseph Allen, professor of exposure assessment science at the Harvard School of Public Health and author of
Healthy Buildings
, says most people don't need to be concerned about transporting the virus via shoes.
"The general public shouldn't be worried about tracking the virus in on the bottom of their shoes," Allen explains.
Still, it's good practice to take your shoes off at the door when you're home. For those in healthcare who may be exposed to an infectious person who's shedding the virus — which can land on their pants or top of the shoes — it's advisable to leave your work clothes and shoes outside when you get home.
"It's also really important not to forget all of the other important public health advice out there," Allen says. "Like frequently washing your hands, covering your cough, keeping a six-foot buffer from others, and
wearing a mask in public
."
Where to buy face masks?
There are plenty of places
to buy cloth face masks online
, many of which are donating all or a portion of sales to coronavirus relief efforts. You can also flex your DIY skills by
making one at home
using a few household items like an old T-shirt, scissors, and string. It's easier than you think, it requires little to no effort, and it's a more sustainable approach.
Currently, there's conflicting information about whether the coronavirus can be
killed at a certain temperature
or if it can survive through a laundry wash. To be on the safe side, wash items in hot water when possible. You should also consider wiping down your washer and dryer with a disinfectant.
"People can practice infection control through basic hygiene," Mark says. "Wash surfaces with alcohol-based products — at least 60% — and clothing in detergent in hot water."
If you don't have your own in-unit washer and dryer — which is especially common in major cities — you should take extra precautions when heading to your building's laundry room or laundromat. Experts recommend
wearing gloves and sanitizing all of the shared spaces
you might use. You may also want to dry your clothes on high heat and for a little longer than usual.
What are the benefits of hand washing clothes versus machine washing?
"Unless you invest in a high-end washing machine and dryer, hand washing is the best method of cleaning for your delicate items," advises Katie Brown, owner of Rytina Fine Cleaners in Sacramento. "By hand washing, one can control those extremely damaging conditions that break down fibers — i.e. heat, mechanical cycles, etc. — therefore prolonging the lifespan of the garments."
How often should I wash PJs and sweats, even if I only wear them inside?
Dr. Joshua Zeichner, director of cosmetic and clinical research in dermatology at Mount Sinai Hospital in New York City, explains that the closer fabrics come to directly touching your skin, the more frequently they should be washed.
"If you are sweating heavily
from exercise
or you are not showering as often as you should, the garments may become soiled more easily," Zeichner says. "Undergarments should be changed and washed daily, ideally so should your sweatpants. Especially in the areas between the legs and in the groin, sweatpants may become contaminated with microorganisms, including yeast and bacteria."
How do I protect myself from coronavirus when shopping?
Some good news: For the most part, you should feel free to shop away. The likelihood that a person can
infect a package
— and that the infection will last through the shipping process long enough to infect the recipient of the package — is relatively low.
"The biggest risk from shopping is going to come from interaction with other people, not the product," says Brian Labus, assistant professor at the University of Nevada Las Vegas School of Public Health. "If you minimize direct contact, you will reduce your risk of disease. As it is a rapidly changing situation, there may be numerous changes in recommendations as to how we go about our day-to-day lives, and that will include our shopping behaviors."
Can you get coronavirus from packages?
All official government sources estimate the
risk of infection
via a package is low, even if an infected person has handled it.
"By the time products reach your store shelves, it has usually been a few weeks since they were manufactured," Labus explains. "The virus might be able to survive a few days given the right environment, but it will be long dead by the time you purchase that product. Even if something you order online is shipped to you the next day, it has been sitting in a warehouse somewhere long enough for the virus to die."
Can coronavirus be spread through renting clothes?
In a statement provided to Bustle, the clothing rental service
Nuuly
explained how it's working to ensure the safety of its customer base.
"Even before the coronavirus, we have had precautions in place when handling newly returned and therefore unwashed garments and bags," the statement read. "During the receiving and unpacking process, our employees have always worn gloves and we have fully stocked our fulfillment center with hand sanitizing stations. Additionally, one of our areas of expertise at Nuuly is cleaning and sanitizing clothing."
The company also uses both wet and dry cleaning for all of its garments and bags to eliminate dirt and germs, and it sends everything through a steam tunnel at 250 degrees. "The end result: clothing that is clean, free of germs or bacteria, and safe for the next consumer to use," Nuuly said.
Another player in the rental space,
Armoire
, is doing the same.
"All Armoire clothing is cleaned and sanitized prior to shipping," says the company's founder and CEO, Ambika Singh. "We use both wet and dry methods for cleaning, and utilize a steam process, which heats to 250 degrees. We are also doubling down on our standards and quality control around shipping."
According to Singh, Armoire hasn't seen major changes in customer usage yet. "As the situation evolves and more people are working from home, that could change," she says. "We would like to urge our customers to keep supporting the services you rely on normally. Your support of small businesses matters."
How are retailers dealing with coronavirus?
Retailers are taking the spread of coronavirus day by day, but they are in a critical position: supplying the public with much-needed everyday items. Walmart, known for its
response to Hurricane Katrina
, has
pledged to remain open
as long as possible. The retail giant wants the ability to provide necessary materials to those who need them like antibacterial soap, food, water, disinfectants, among other items.
Target
released a statement
informing customers it would be increasing the inventory of priority products (disinfectant, hand soap, toilet paper, etc.) and cleaning times to every 30 minutes in accordance with CDC recommendations.
Several retailers, including Nike, Lululemon, and Aritzia, have
closed stores due to the coronavirus
, but their e-commerce sites are still running.
Luxury brands aren't faring as well as the big box brands. Brands like Burberry are
experiencing closures
all over China — where the outbreak began — that have affected global supply and demand. COVID-19 will likely have consequences for the luxury space for years to come.
oa here